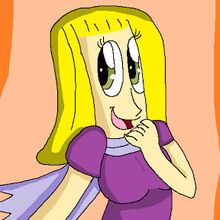 CharmeleonWarrior
is one of the main actors on LuigiFan00001's channel, as well as a major one for most of the female cast in the more recent videos, (some male characters even voiced by her!). It's also revealed that CharmeleonWarrior is
LuigiFan00001
's girlfriend, as they had been dating ever since July 2014. Aside from voice acting in general, CharmeleonWarrior has been shown as an artist, a singer, and even has her own YouTube page!
Channel: https://www.youtube.com/channel/UCrt4rLX3JJ-UmIr2toS2qSA
Roles
Toadette
Mismagius
Wheezy
Psycho
Lilligant
Painwheel (Carol side)
Dynatron
Constance Hatchaway
Misdreavus
Polly
Pink Knight
Eve
Hypno Shroom
Rouge the Bat
Blaze the Cat
Mesmerelda
Muffet
Gonzo
Shirokuma
Decidueye
Orange Inkling
Bang Bang
Jinx
Care Bears (Only a few)
Cocoa Cookie
Cheesecake Cookie
Macaroon Cookie
Trivia
While CharmeleonWarrior has her YouTube channel, she is mainly active on her deviantART page CharmeleonGirl46.